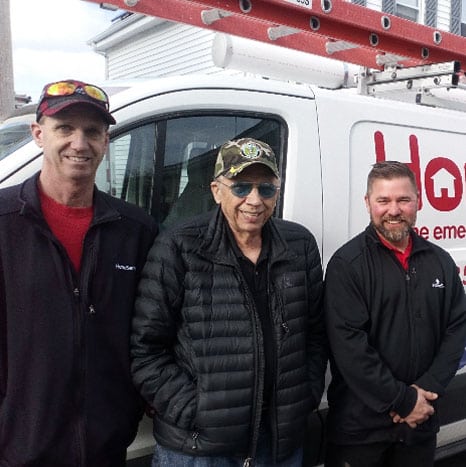 Edward Andruskiewicz, a lifelong Luynn resident and a World War II veteran, is very grateful to HomeServe for installing a new boiler at his home.
"I had 3-4 feet of water in my cellar that was caused by flooding from the Nor'easter [in January]," said Andruskiewicz.
That's when HomeServe, Andruskiewicz's home service provider who had given him a $500 veterans discount for the first boiler, stepped in and delivered quickly for the River Street Place resident. His customer representative, Roger Boucher, had heard that the 87-year-old veteran was sitting in the cold with another storm bearing down.
"They called me and told me they had heard about my boiler being flooded," Andruskiewicz, who worked at General Electric for 30 years before his retirement.  "They felt real bad about it and my customer rep said he was going to get in touch with HomeServe's home office and see if anything could done about it."
One day later, Andruskiewicz received a call from Boucher that HomeServe was going to replace his boiler at no charge.
"Free, zip, zero," said Andruskiewicz. "I got my heat back again."
He served his country in the U.S. Army during the latter stages of World War II and rejoined the military in the Korean War. "I was part of an organization that was similar to the Seabees, only we worked for the Air Force and wore army uniforms," said Andruskiewicz.
Looking back at his entire boiler experience, including his relationship with plumber Leo Paquette and apprentice Rodney Hylton (whom he calls 'fantastic guys') and the excellent service and generous gesture provided by HomeServe,  Andruskiewicz said, "I'm so grateful to HomeServe, I don't think are any words to express that. I've always known that there are some good people in business out there. It took me a quite a while to really grasp that this company was this good. I would recommend this company to anybody, believe me."